Armenian church sues Getty over ancient Bible pages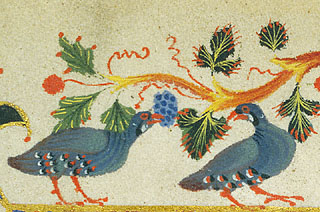 An Armenian church based in La Crescenta has filed a civil lawsuit against the Getty Museum, claiming the institution illegally bought seven pages from a sacred Bible.
The Western Prelacy claims that the seven pages, which date back to 1256, were ripped from the Armenian Orthodox Church's Zeyt'un Gospels during the Armenian Genocide, according to the lawsuit filed in Los Angeles County Superior Court.
The Western Prelacy of the Armenian Apostolic Church of Americas is requesting that the pages be returned.
"We expect the Getty to do the right thing," Levon Kirakosian, a spokesman for the prelacy, told the Glendale News-Press.
The Getty states on its website that the illustrations by T'oros Roslin were "separated from the manuscript at some point in the past" and were acquired by the museum.
"The Getty is confident that it has legal ownership of these pages, known as Canon Tables, which have been widely published, studied and exhibited," the museum's spokeswoman, Julie Jaskol, said in a statement.
The museum acquired the pages from a private U.S. collection in 1994 after reviewing the origin of the pieces, she said.
The previous owner of the collection has asked the museum not to disclose his or her identity, Jaskol said.
The pages have also been described, reproduced and written about in articles, as well as displayed in a 1994 Armenian art and culture exhibition in New York, she said in the statement.
"At no time in the 90 or so years that the Canon Tables have been in the United States has anyone questioned their ownership," Jaskol said in the statement. "The Getty believes the lawsuit is groundless and should be dismissed."
Read the full story here.
Read more about the Canon Tables at the Getty's website.
-- Veronica Rocha, Glendale News-Press
Photo credit: Getty