Phil Spector's wife says he produced her album, but some are skeptical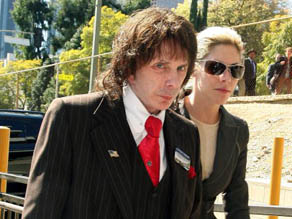 Music producer Phil Spector was legendary for his work with Tina Turner, the Ronettes, the Beatles.
But certainly his greatest feat would seem to be having a new CD appear this summer proclaiming him as producer while he sits in Corcoran State Prison, where he is serving a sentence of 19 years to life for the second-degree murder of struggling actress Lana Clarkson.
The new CD is the work of his wife, fledgling singer Rachelle Spector -- and it was produced before her husband went to prison last year.
Rachelle, who is 29 (30 next month) met her husband, who is 70, at Dan Tana's, the old-style Italian restaurant and bar hangout. They met just months after Clarkson died of a gunshot wound in the producer's Alhambra mansion.
Rachelle said she had no clue about his fame -- or his infamy -- that night.
"Pretty much from the time we met until the time he was taken away from me," she said referring to the April 2009 conviction that sent him to prison, "we were inseparable."
Never doubting his innocence, she says, she married him in September 2006. The two worked on her CD, she said, between that year and 2009, a period that Spector spent mostly free on bail. His first trial ended in a hung jury in 2007 before he was convicted after his second trial.
"It took a lot longer than anticipated because the trial took precedence over everything," Rachelle said.
"It was fun," she said of the recording sessions. "It was his outlet. It was his escape back to his roots."
Not that the collection of up-tempo pop songs, some of them dance tunes, resemble the fabled lush Wall of Sound that became Spector's signature.
"He didn't want that," she said of the songs that she notes he co-wrote, produced and arranged. "It's not about the Wall of Sound. It's about turning the negative into a positive and getting back to the roots of music."
The cover of the CD, titled "Out of My Chelle," shows an ebullient Rachelle kicking her leg at an abstract splash of pink paint. In the upper right hand corner is the declaration "A Phil Spector Production."
A few have raised questions about whether this is really the producing work of Phil Spector.
"She has a strong drive to be a pop singer," said Steve Escobar, who lives in the Bay Area and calls himself a friend of the producer, but he added, "Since I've known him in 2004, he would say she was going off to do her songs. … I asked him, 'Are you working on it?' He said, 'No, I just go in and listen once in a while and give my critique.'"
Rachelle countered, "People are going to say what they're going to say. This was my husband's idea -- several years into my husband's and my relationship."
Said Bob Merlis, a former music industry executive who now runs his own public relations firm and is a friend of Spector's: "I told her when I heard it that people will logically conclude it doesn't sound like what you expect from a Phil Spector record. She said, You haven't heard him in so many years.' I just accept that. I wasn't at the sessions."
Rachelle came to Los Angeles in 2001 to pursue a singing career and said she sang at local clubs around town. She said she was on a night off from her waitress job when she met Spector. She said they rehearsed the music for weeks at the home she shares with him in Alhambra -- the same house where Clarkson was shot to death and where Rachelle now lives alone.
She said she recorded her songs in a Sherman Oaks studio with her husband present.
"To see my husband in his element was magical. … His ears are amazing. If he didn't like something, he would stop it and rewrite an entire different part," Rachelle said.
The songs are produced on her own label, Genius4Ever, and are available digitally June 8.
The actual CDs will be available online starting July 20. And Spector will first be eligible for parole in 2028.
Rachelle said she visits him weekly. "I go up every single weekend," she said.
-- Carla Hall
Photos: (top) Phil and Rachelle Spector outside of court. Credit: Associated Press
(bottom) Rachelle Spector's new album. Credit: Rachelle Spector