Is Schwarzenegger California's king of social media? One official thinks so. What do you think?
February 26, 2010 |
4:51
pm
Is Gov. Arnold Schwarzenegger the model in California?
The state's information guru seems to think so, according to The Times' Michael Rothfeld. Writing on PolitiCal, The Times' California politics blog, Rothfeld says the state's new  "Social Media Standard"  is designed to make sure employees don't run amok.
"As with most technologies, there is a measure of risk that must be addressed and mitigated," the state's chief Information officer, Teri Takai, wrote. Those risks are significant, according to Statewide Information Management Manual Section 66B: tweeting and facebooking can hamper employee productivity, strain Internet connections, cause "reputational risk to personnel, the agency, and the State," result in the leak of sensitive materials, introduce viruses into the "IT environment," and more.
As a shining example of how to do it right, Takai pointed to Gov. Arnold Schwarzenegger, who she said had "used these communications channels with great success." Among the governor's dynamic use of social media: a video mocking state lawmakers for debating about cow tails, a picture of a smiley face he made in his oatmeal with fruit, a photo of his Popeye-like biceps, and a video in which he brandished a big knife while proposing to cut the state budget.
The new standard doesn't seem to leave room for such creativity by most state workers, who must follow an "acceptable use policy" and only use social media sites "to fulfill the business requirements." Only authorized users can participate, and some sites should be disabled to prevent "unnecessary functionality" such as instant messaging.
Read more about the new social media rules here.
Tell us what you think about it? Is the governor a Twitter god? Should the state regulate the way employees use social media?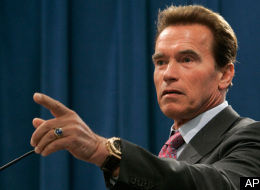 CALIFORNIA POLITICS: Keep on top of all the latest California political news, from Sacramento deal-making to the Senate and governor's races on PolitiCal, The Times' California politics blog.