Replica appears of Mojave Desert cross that was stolen at war memorial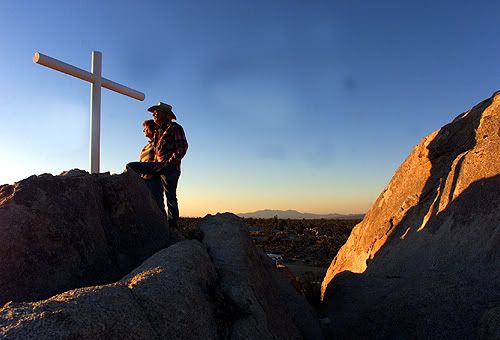 A replica of a cross erected at a war memorial in the Mojave Desert that was stolen last week has reappeared on the site where it originally stood.
The new cross was spotted Thursday morning at Sunrise Rock in the National World War I Memorial, the National Park Service said.
Before it was stolen, the cross had been the focus of a legal battle over whether it should be displayed at the memorial. A lawsuit filed in federal court argued that displaying the cross was unconstitutional  because it represented just one faith: Christianity.
In a decision in April, the
U.S. Supreme Court
allowed the cross to remain and sent the matter back to a lower court. The cross has stood since 1934 in various forms as a memorial to World War I soldiers.
The Park Service said officials were investigating the original theft and the planting of the replica cross. Anyone with information is asked to call a tip line at: (760) 252-6120.
-- Robert J. Lopez
Photo: The stolen cross. Credit: Los Angeles Times