Storms bring high rain totals to L.A.: 4 inches in Hollywood Hills; 3.2 in Santa Monica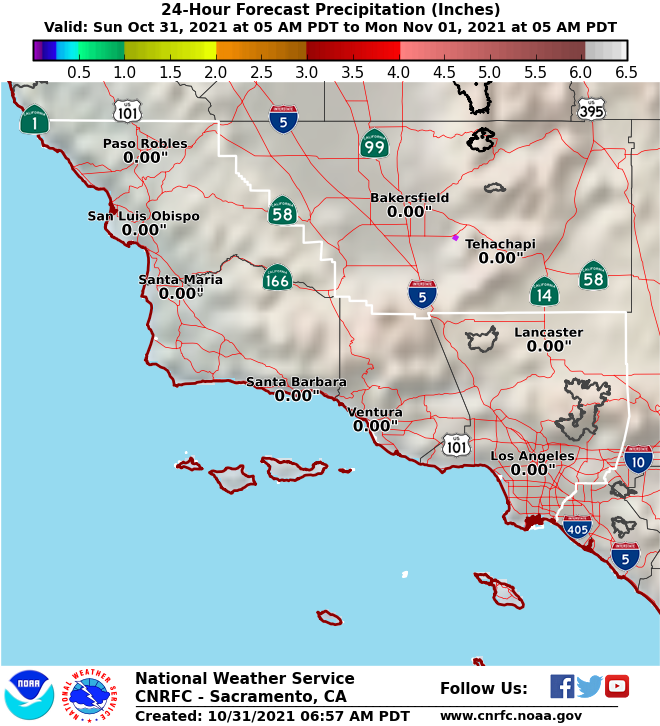 The latest series of rainstorms to hit Southern California dumped the greatest amount of rain in L.A.'s Westside and Hollywood Hills areas, according to numbers from the National Weather Service.
The Hollywood Reservoir recorded more than four includes of rain between Thursday night and 10 a.m. Saturday.  Sierra Madre had 3.6 inches, and Santa Monica had 3.2 inches. The high desert and some inland valley areas got significantly less rain.
The storms appear to have packed more of a punch than initially forecast, and more rain is expected Saturday afternoon and into Sunday morning, according to the NWS. (The map above show forecast rain totals by Sunday at 4 a.m.)
Here are the rainfall totals for selected areas of Southern California:
AVALON... 2.79
DOWNTOWN LOS ANGELES...2.84
LONG BEACH .. 2.75
SANTA MONICA .. 3.24
BEL AIR HOTEL..... 3.86
HOLLYWOOD RSVR..... 4.06
HANSEN DAM....... 2.11
CLAREMONT..... 2.54
MOUNT WILSON .... 1.83
SIERRA MADRE... 3.62
LANCASTER.... 0.62
-- Shelby Grad
Image: Rain forecast map through Sunday at 4 a.m. Credit: National Weather Service
FULL COVERAGE OF THE MUDSLIDES
--Times photo gallery from the scene

--Interactive map of evacuations by The Times'' Rong-Gong Lin II